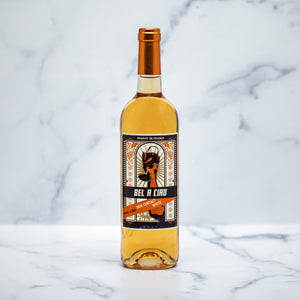 Wednesdays we try to deliver north of the ship canal, Thursdays south of it. If either day is sold out don't be shy about ordering for the other day, we'd love to bring you pizza! 
Friday we deliver to West Seattle/Burien/White Center/Seatac only.
Saturday is for pickups at our Sodo Production Kitchen (3810 Airport Way S, 98108) from 12pm-4pm.
Mondays we deliver to Kenmore, Bothell, Woodinville, Kirkland, and Redmond.
Tuesdays we deliver to Bellevue, Mercer Island, Newcastle and Issaquah
If you are ordering alcohol you'll need to be available to for us to check your ID during delivery.
A mouthwatering skin contact wine made from golden-skinned Bordeaux grape, sémillon. Bel a Ciao is the latest project from "revolutionary" winemaker Olivier Cazenave, a Libourne native who can't help himself when it comes to breaking the rules and flipping pre-conceived notions of Bordeaux upside-down. It is the desire to break the rules that sets Bel A Ciao apart. Bel A Ciao is named after a revolutionary folk song of the same tune. 
This vintage is 100% Sémillon and certified organic by the Agriculture-Biologique (AB) in France.
VARIETAL: 100% Sémillon
​ABV: 12.5%